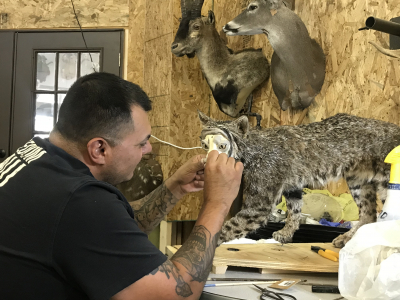 El Cazador Taxidermy Studio, based out of San Angelo Texas, can extend the thrill of your hunt for decades. Our award-winning mounts will keep your prized trophy, just the way it should be.
Hunting and fishing have been a part of the great outdoors throughout our history. We realize that those experiences cannot always be expressed enough through stories and pictures. We take pride in the preservation of your trophies, so those stories become reality. Our quality of workmanship in taxidermy is known throughout the world as some of the top in the industry.
El Cazador taxidermy studios is owned and operated by Eric Zuniga from San Angelo Tx.
We stay on top of the newest materials and techniques. Our shop can do anything from game heads, to trophy rooms, and much more. You can feel safe that your trophy will be done with the best commercial tanning, top quality materials and with our passion it will get done at the highest quality in the industry. We take pride in providing our customers with exceptional custom pieces.
Please feel free to contact us with any questions concerning your African, Big Game, Fish, Bird, Whitetail or exotics. We receive animals from all over the world and can ship to any location in the United States, so get in touch with us to discuss your future mounts.